2019 new Hot sales Waterproof Silicone Membrane Switches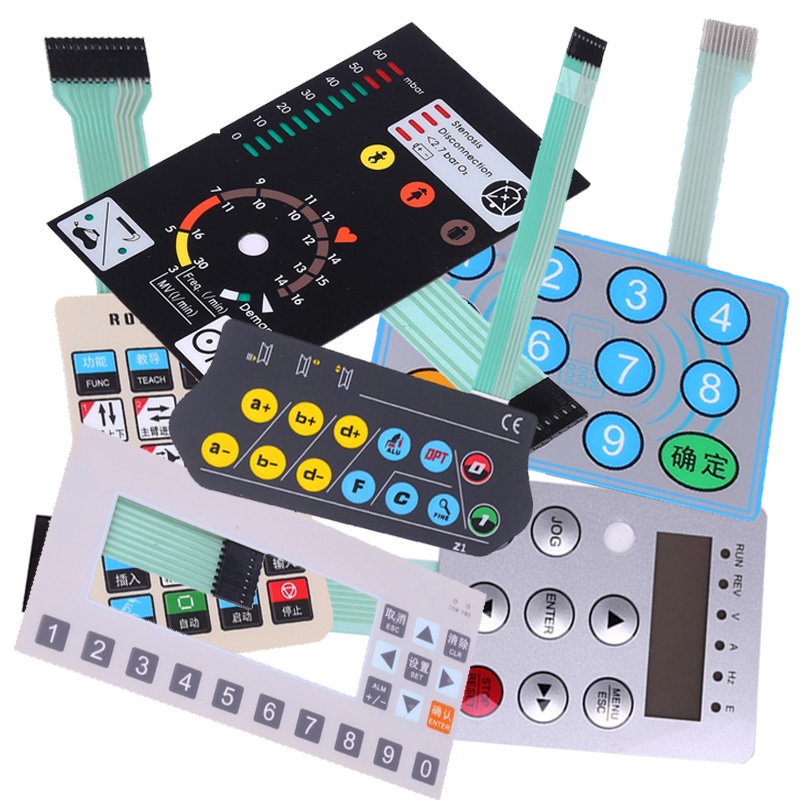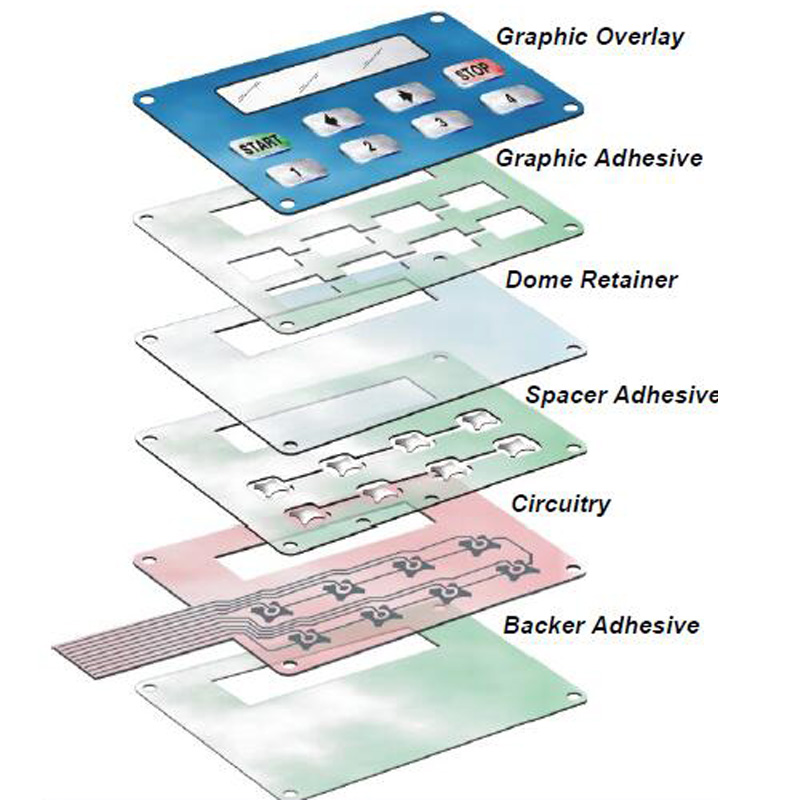 Basic Parameter for the Membrane Switch
Membrane switch is Compositive switch made of metal insulating material layers and conductive layers. It be comes the first choice for the electric control switch for its unique Superiority. Good appearance, small volum, long life-span and Bend resistance make the membrane switch popularly accepted. Also, it has strong resistances against the water, fire, oil and scratch. Hereby, the basic parameters of it is presented as follows:
Technical Datas
1 Electrical Performance
(1) Operating Voltage: ≤50VD
(2) Operating Current: ≤100mA
(3) Contact Resistance: 0.5~10Ω
(4) Insulation Resistance: ≥100MΩ(100VDC)
(5) Base Material Withstand: 2kDVC
(6) Contact bounce: ≤6ms
(7) Loop Resistance: 50Ω,150Ω,350Ω or as per clients' requirement
2 Mechanical Properties
(1) Life expectancy: >1 million times
(2) Switch stroke: 0.1-0.4mm(Flat type)
0.4-1.0mm(Tactile type)
(3) Actuation force: 15~750g
(4) Flex Tail Pitch(Standard): 2.54 /2.50 /1.27/ 1.25mm
3 Environment Specification
(1) Operation Temperature: -20°C~+70°C
(2) Storage temperature: -40°C~+85°C
(3) Humidity: 40 C, 90%-95%, 240 hours
4 Printing Indicator
(1) Size Deviation: ±0.15mm
(2) Side Boundary: ≤0.1mm
One-stop shopping! Standard and custom-made membrane keypads
ZDX offers a wide range of standard keypads designed for ZDX enclosures.When requested, custom-made versions can be supplied at low cost and fast. In addition ZDX offers the machining of enclosures and mounting of membrane keypads. Keypad face membranes can be designed to your specifications.
Features :
We use exclusively high-quality materials in our membrane keypads, ensuring longevity even in harsh industrial environments.
An overview of our off
You are looking for a membrane keypad with an individual and sophisticated design?
Our keypads are manufactured to meet our customers` exact requirements
–
whether in terms of size, design or colour, matt, semi-gloss or glossy, with or without a window, with a tactile action point, including LEDs or other components, integrated in supporting plates or pre-mounted on our enclosures.
Certification&Workshop