SHJS-65/150 twin stage extruder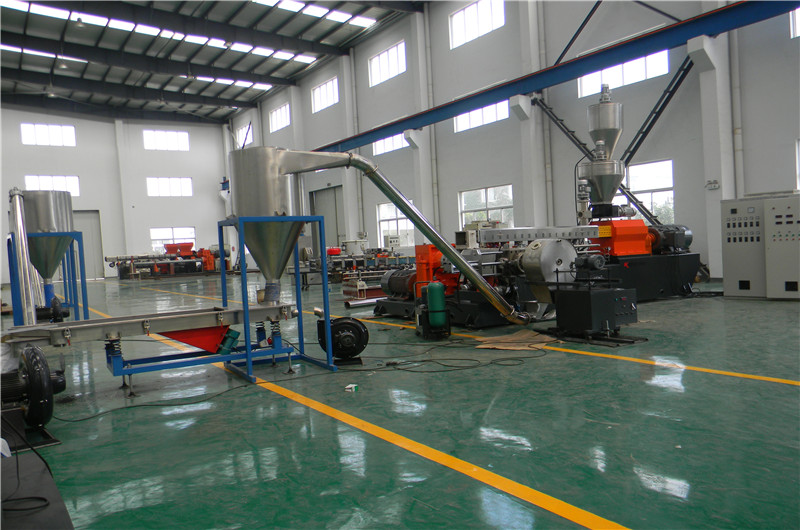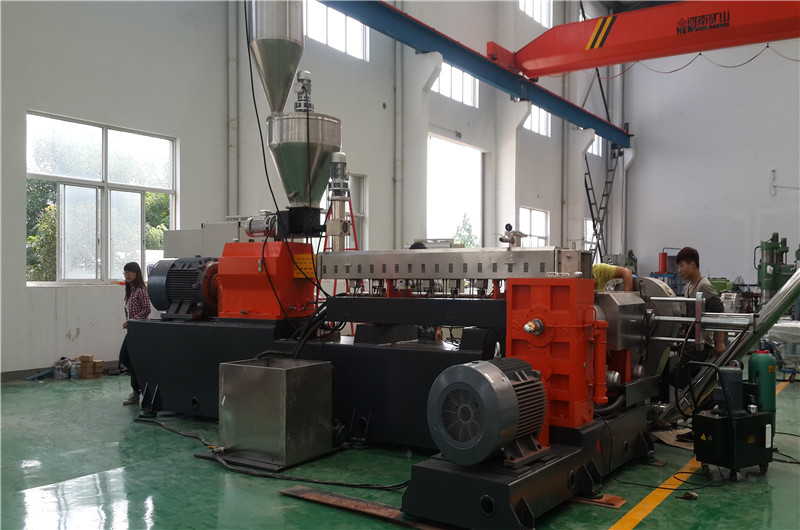 double-stage waste plastic recycling machine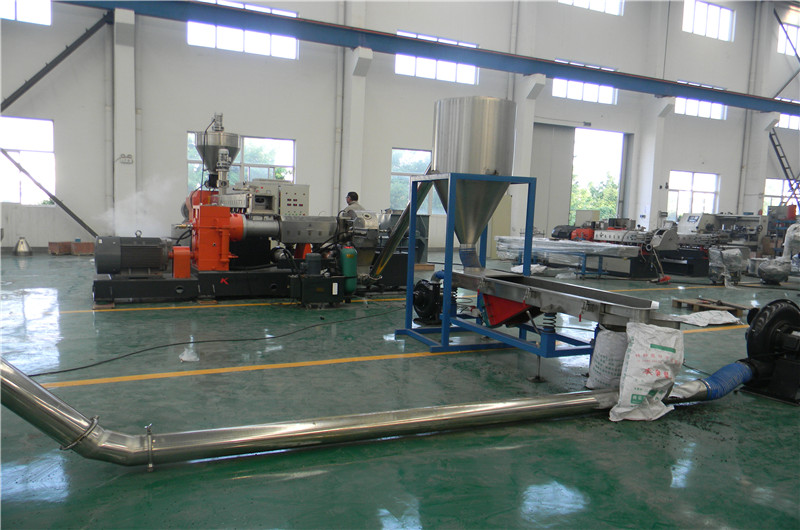 Picture of waste plastic recycling machine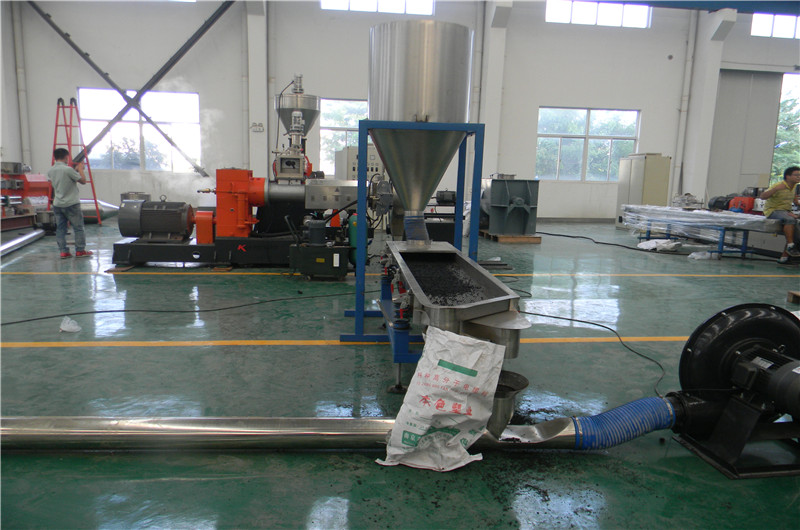 racteristic of waste plastic recycling machine :
The SHJS series two-stage extruder consisted of two stage components. The first stage is SHJ co-rotating twin-screw extruder, the second stage is SJ Single Screw Extruder. This machine first of all to realize material better compounding and shearing by twin-screw, then the single screw fulfills the task of extruding and granulating.
The scientific and advanced structure can avoid material decomposition phenomena due to overheating. To combines the advantage of twin-screw and single screw together and complementation, likewise, propitious to every craft distribution and optimize so that making higher efficient and production capacity.
The two-stage extruder best suits for producing PVC, POM, XLPE thermo-sensitive material etc.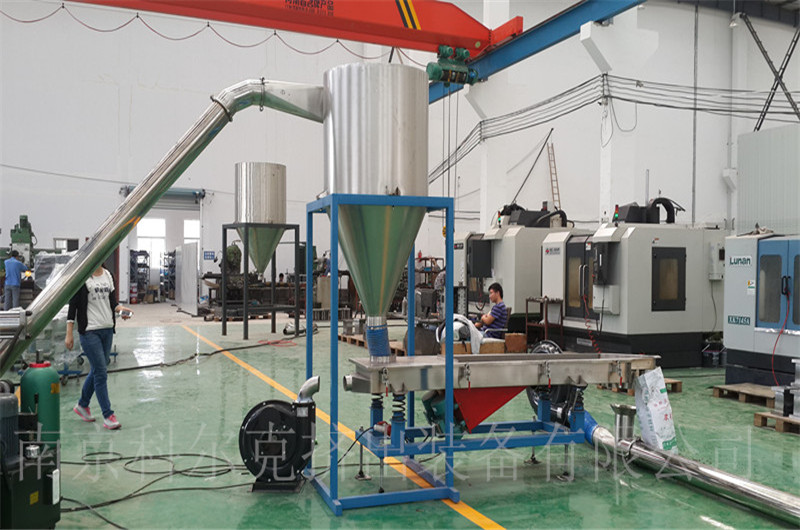 Configuration:
1.Speed reduction gear box
1) Reduction ratio: 2.5:1
2) Output shaft rotating speed: MAX600RPM
3) Input shaft rotating speed: MAX 1500RPM
4) Combining host transmission box speed reduction and torque distribution part together, using three
axis style design, with compact structure. Speed reduction, torque distribution and two output shaft radial
bearing all use NSK bearings.
2. Lubrication oil cooling system 1) oil pump motor 0.55KW 2) Lubrication Oil Model: 85W/90GL-4 3) Condenser Model: SL-303 4) Lubrication oil pumps Model: CB-B6
3. main machine motor
1) Motor of host machine:75KW(AC motor,), Siemens Products.
2) Motor rotating speed ( MAX):1500RPM
4. screw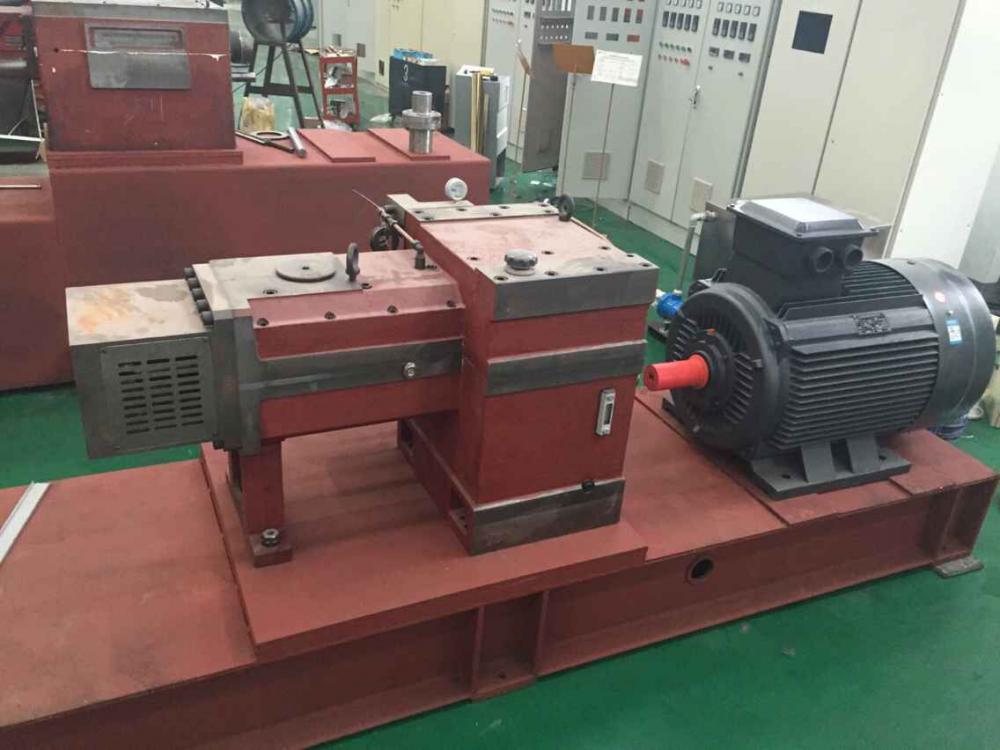 1) Screw design: modular structure
2) The screw core shaft is made of 40CrNiMoA, and the screw thread components connect with the core shaft in an involute curve, which features high intensity, large bearing load, and easy to disassembly and assembly.
3) The screw components are made of high quality high-speed tool steel W6Mo5Cr4V2, that receives heat treatment with vacuum hardening at high temperature.
4) Whole hardness: HRC58-62
5. vacuum exhaust equipment
1). SK - 0.4 water ring vacuum pump made by Zibo Lianyi Vacuum Pump Plant
2). Drive motor :1.5kw AC
3). Maximal air inlet capacity:62m³/h
4). Working liquid flow:0.2m³/h
5). Vacuum pipelines Chromizing
6. electrical control system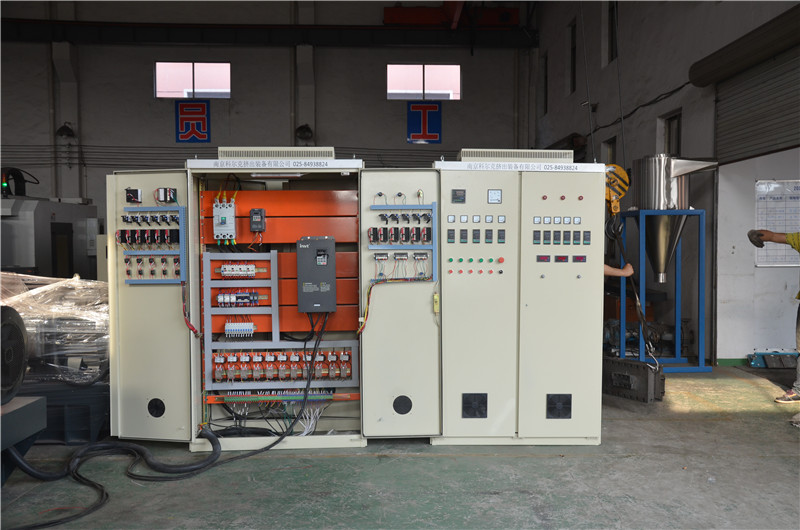 1) 3X380V,AC 50Hz
2) Main motor is AC motor, power is 132KW.
3) Feeding machine speed control device use British Witten inverter.
4) Japan RKC brand intelligent temperature control instrument.
5) Pressure gauge range is 0 ~ 50Mpa
6) Chalk solenoid valve imported from Netherlands
7) Heating is controlled by the temperature control meter via a solid-state relay, using high temperatures
resistance wire.
8) The electric control cabinet controls: temperature control system, driving system and interlock control
system.
7. interlock control system
1) Only after the oil lubrication system interlocks with the host machine, i.e., the oil pump starts up, you can
start up the host machine.
2) The feeding system interlocks with the host machine, i.e., the host machine starts up, you can start up the
feeding machine.
3) When the pressure system interlocks with the host machine, i.e., reaches overpressure, both the host
machine and feeding machine should stop operation.
4) When the electric current interlocks with the host machine, i.e., reaches overcurrent, both the host machine and feeding machine should stop operation.
8. Die face water ring pelletizing systems
1)Hot cutting die head(including heater)
2)Fan housing: Stainless steel
3)Pelletizer: motor power is 1.5 KW
4)Water pump: 4KW
5)centrifugal dehydrator: 5.5KW
6)Grade1 cyclone separation system, draught fan motor is 4KW
Application:
PVC cable material, sole material, transparent bottle material, medical material, low smoke zero
halogen or halogen free flame retardant cable material, EVA shielding material, PE/EVA carbon black
mother material and all kinds of crosslinking cable materials so on, radiation crosslinking cable materials.
Features:
The first stage is Co-rotating twin-screw compounder. Use the twin-screw advantage of high-speed,
high shear, strong compounding to realize material full plasticization and compounding, because no
drivehead back pressure, so we can according to different materials flexibly arrange screw array to
achieve the best compounding condition.
The second stage is single screw extruder.The screw low-speed and deep groove feature provides
a low-cut processing environment , while mating barrel cooling, to prevent the plasticized material
from generating thermal decomposition in high-pressure extrusion.
Packing and shippment
Our professional workers
Certificate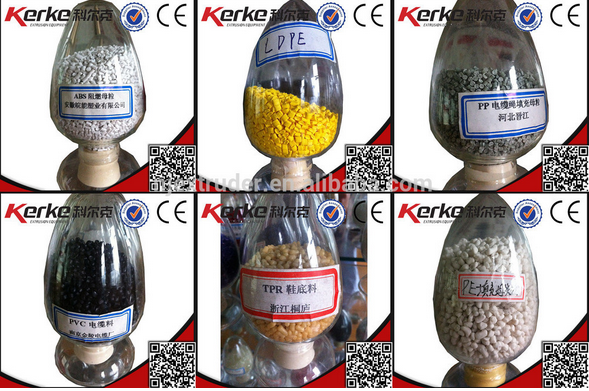 Our factory and workshop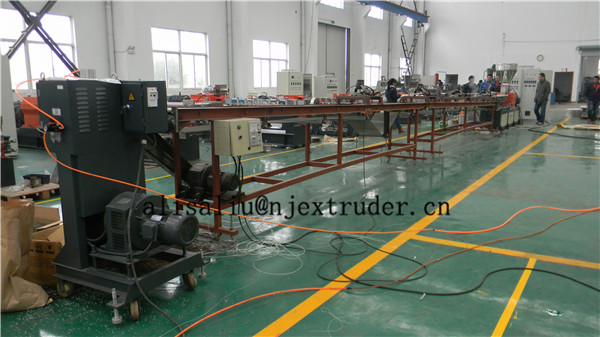 more main products of waste plastic recycling machine
1. Co-Rotating Parallel Twin Screw Pelletizing Extruders
2. Single Screw Pelletizing Extruders
3. Die Face Cut (Air Cooling) Pelletizing Extruders
4. Double Stage / Double Degassing Recycling Extruders
5. Crushers, Mixers, Storage Tanks, Vibrators, Granulators, Blowers
6. Extruder spare parts
Contact us if you need more details on XLPE Cable Compounding. We are ready to answer your questions on packaging, logistics, certification or any other aspects about Silane Cross Linked Material Extruder、Two Stage Compounding Pelletizing. If these products fail to match your need, please contact us and we would like to provide relevant information.
Product Categories : Two Stage Compounding Extruder Line