Under Water Pelletizing Line For Plastic Recycling And Compounding
Application:
The process of pelletizing can be applied in several areas. For recycling, the whole procedure is taking the waste plastic material into plastic granulates so as to converting the plastic into other products.
After crushing, washing, dewatering and preparing for pelletizing, the production process starts. The pre-processed plastic will have following steps principally:
There are different concept to realize the above mentioned steps. Therefore, the production line should be presented with different equipment. According to the character of plastic material and quality requirement of the granulates, customers can choose one of pelletizing concept which is best suitable for the whole production line. The under Water Pelletizing is a kind of pelletizing concept. But its applications are becoming more widespread. With following characters, we can have a brief overview about the under water pelletizing.
Introduction:
Underwater pelletizing is used for polymers that are difficult to process (e.g. sticky). The melt emerges from the die plate and is knocked off by the pelletizing knives. The entire process takes place under water. In the centrifuge, the pellets are separated from the process water and dried.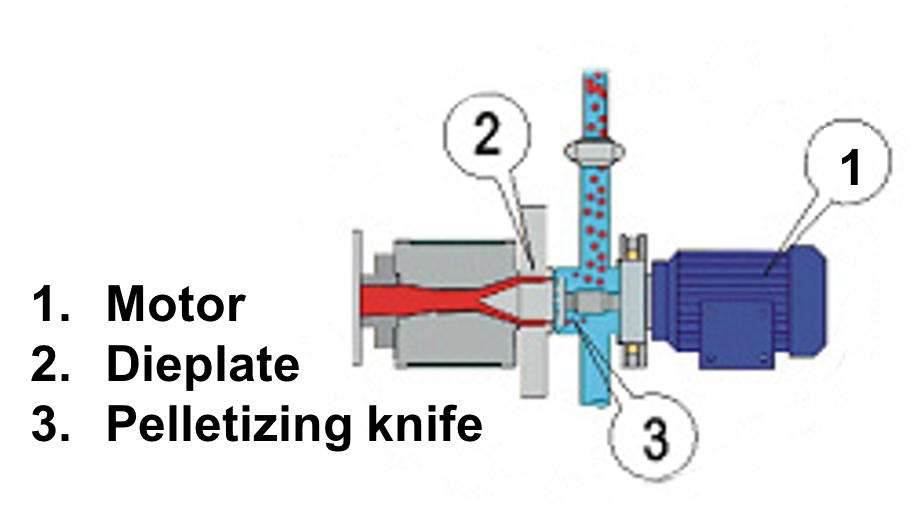 Advantages of pelletized Granulates:
Advantage of production and operation:
production in a closed condition and environment friendly